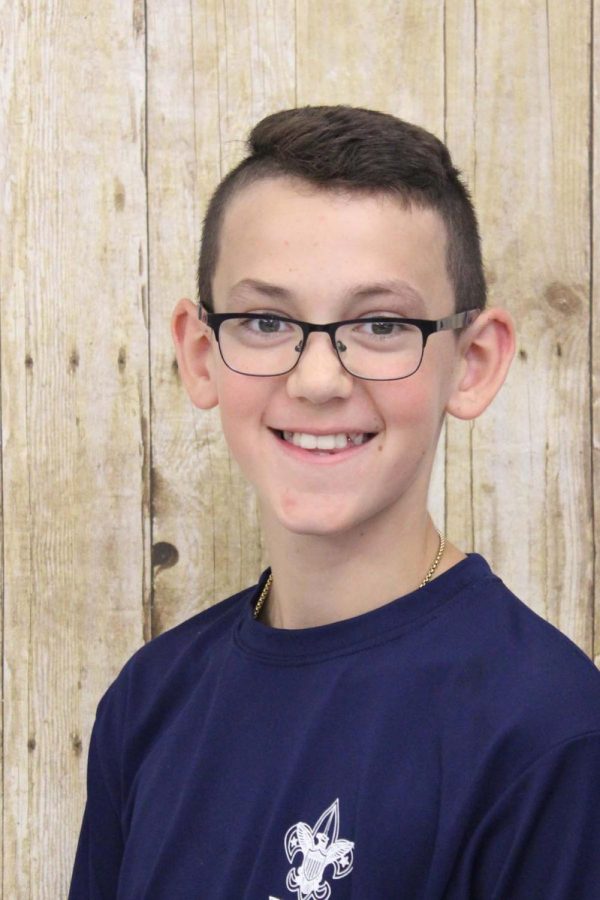 Hello my name is Bryson Deal. I'm in sixth grade here at Freedom. I'm a writer for the Bulldog Barker. This is my second year, and I am loving it.
My favorite thing about being in
the Bulldog Barker is that I get to have an article in the paper with my name on it. My school activities include Pep Club, Academic Games, soccer, and basketball. Outside of school, I am involved with Boy Scouts, church, youth group, and bell choir. When I grow up I want to be a math teacher. One interesting thing about me is that I LOVE rock climbing. I rock climb at The Climbing Wall and Climb North.
That's just a little bit about me!
Bryson Deal, Writer
May 19, 2020

Fourth Annual Freedom Science Conference Online

(Story)

May 10, 2020

The Benefits of Students Sleeping in During Quarantine

(Story/Media)

Apr 22, 2020

Masked Easter Bunny

(Story/Media)

Feb 28, 2020

VSCO: overload or awesome?

(Story/Media)

Feb 27, 2020

Mrs. Clibbens' sixth grade class makes math board games

(Story/Media)

Dec 16, 2019

Students debate if they like CDTs or PSSAs better.

(Media)

Oct 30, 2019

Courtyard improvement continues

(Media)

Oct 30, 2019

Safe2Say Something program aims to decrease school violence through an anonymous reporting system

(Media)

Oct 23, 2019

Sixth grade learns about beekeeping from Honey so Good

(Story/Media)

Sep 26, 2019

Mrs. Sacco tells her 9/11 story to the sixth grade class

(Story/Media)

Jun 05, 2019

Arrow of Light Scouts crossover to Boy Scouts at Blue and Gold Banquet

(Story)

Mar 25, 2019

Freedom Math 24 players make finals for the first time

(Story/Media)