Smith shares "State of the Building" press conference with Bulldog Barker staff
Hang on for a minute...we're trying to find some more stories you might like.
Recently, the Bulldog Barker staff met with Mr. Smith, Freedom Area Middle School principal, to learn about the state of our middle school. No, this does not mean if it is in Pennsylvania or Florida or even California, what it does mean is the condition of our school, our problems, our successes and what is going on here.
The first topic Smith talked about was programs that FMS has in place to evaluate and improve our school.  Our most popular program is the PAWS program. Everyone is familiar with the PAWS Program, which give us standards and goals to live by each day in order to make our school the best it can be. Smith stated that some students are still struggling with doing what they need to do and those students need extra guidance and support until all of their goals can be met. According to Smith, these are what are known as the Tier 2 students. They meet with a mentor each day to set goals, get guidance and have someone to help them until they are able to reach their goals on their own. Tier 2 has been very helpful to those students needing extra support. Smith also said that FMS staff was chosen to do a presentation at a state conference about our PAWS Program since our school has done such a great job with it. We should all be proud of what we are accomplishing.
Another program that Smith said we were chosen for was a National Testing at the 8th grade level called NAEP. On February 27, fifty  8th grade students were randomly chosen for the testing. Twenty-five took a math test and twenty-five took an ELA test. Their scores will show how Freedom is competing at a national level in our academics.
In addition to these programs, the school is also introducing new policies and safety measures.  During part of our time with Mr. Smith, we asked about the school phone policy and whether phones may be taken away from us during class time. Smith said that he does not think that they need to be taken away at this point in time but that they are monitoring the situation. The school's current policy is that phones are to not be visible and are to be turned off. Smith said that there is a gray area though because some teachers use the phones in class for things such as Quizlets or research. For now, each teacher is deciding on use in their own classroom, but if students are caught misusing the privileges, they will have their phone taken away.
The next policy discussed was safety issues. When asked about whether our school would be getting metal detectors for safety, Smith said that was not being considered now, but  there are other safety changes taking place. FMS received a $25,000 grant for safety and with that money they are adding more cameras and swipe cards and are also going to be creating a new window at the middle school office for anyone coming to the school. This will be similar to the high school  and will allow the office staff to talk to people without them being able to enter our building. This will ensure that our school is a safer place.
Finally, Smith was asked what he thought the biggest challenge was at FMS. He said without a doubt that it was transitions. He said that students in the Middle School undergo three major transitions in four years, making adjusting difficult and stressful. The three transition are 4th to 5th grade, which is going from elementary to middle school, 6th to 7th grade, which is going to secondary school and finally, 8th to 9th grade, which is a transition to high school. The 8th to 9th transition is the biggest since it is to a new building, schedule, teachers and staff. The Middle School is working with the High School to make those transitions easier for the students.
Overall, FMS is in a pretty good state. Mr. Smith and all the staff are working hard to come up with new ideas and ways to make our school better. We should all be proud to be FMS Bulldogs!
About the Writer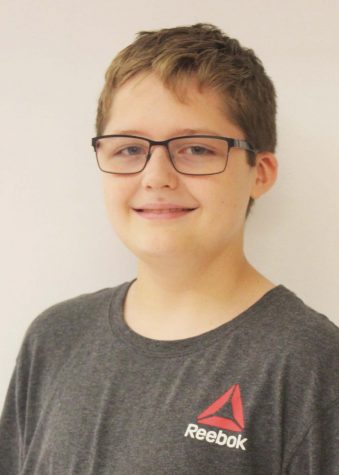 Mason Geibel, Copy Editor
Hello there! My name is Mason Geibel, and I am in 8th grade. I am the Copy Editor on the newspaper staff. I have been working on the Bulldog Barker for...